Stephanie Heydon - 07 / Sep / 2022
Snowboard boots - The best reason not to ski!
Buying Snowboard boots can be daunting; there are so many good brands out there selling high quality boots. Buying boots can be a big commitment, and we want to make sure you are happy with your choice. That is why we have composed a brief guide to get you started on the right foot!<br />
Our expert staff are always keen to give advice in helping you make the best choice.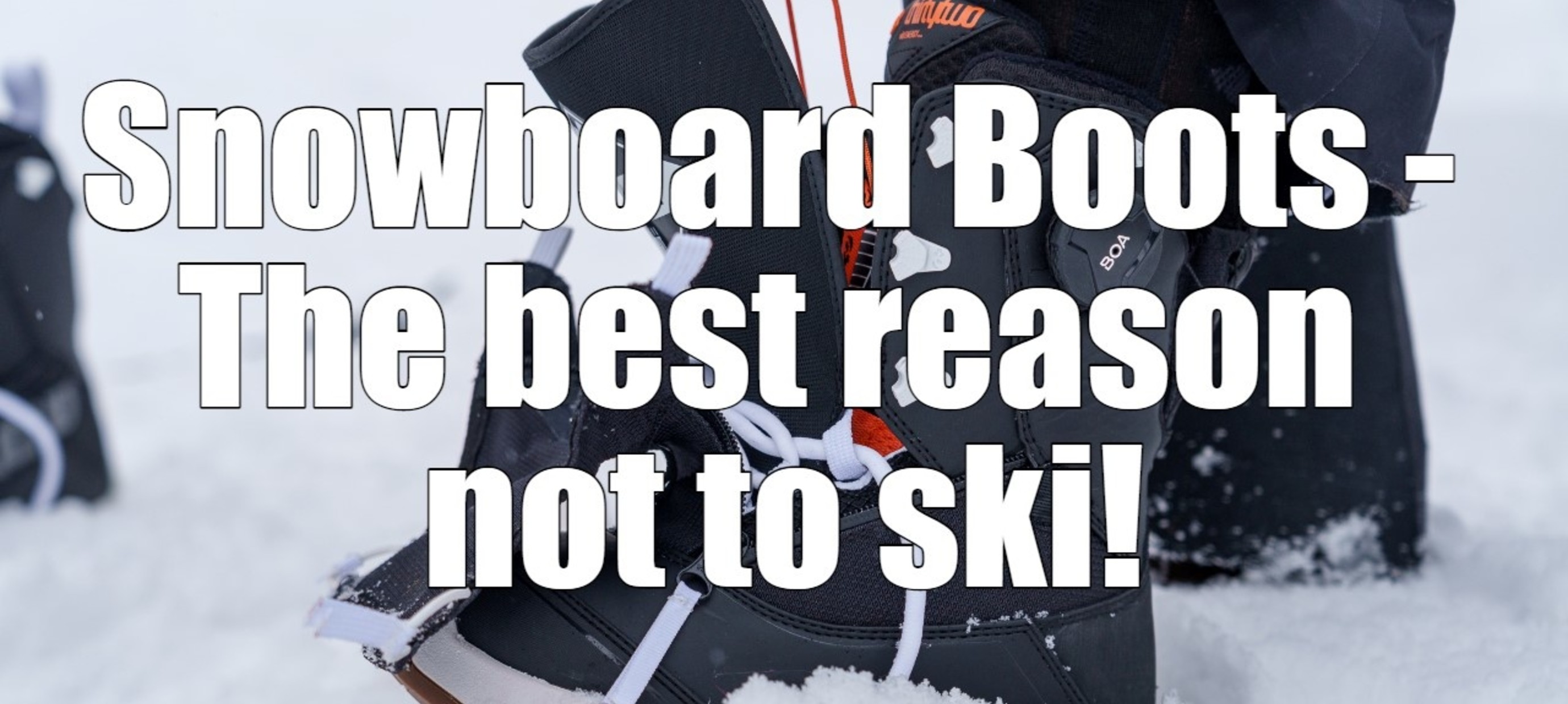 Snowboard Boot Buying Guide
Snowboard boots should fit snugly around your feet. They should not cause any pain; unlike ski boots, snowboard boots are known for their comfort! Snowboard boots usually soften after a couple of days of riding, so normally they are a little less stiff as they are worn in.
Whether you need to buy a new pair, you are borrowing some, or have your own, we always recommend that you should wear the socks you are going to ride in as you try them on. They can make a big difference to your fit. If you need advice, check our blog explaining ski socks.
Flex
The flex of snowboard boots is generally a rating between 1 and 10 (10 being the stiffest).
Choosing the flex for snowboard boots depends on a variety of things, for instance;
Ability
Riding style
Compatibility with the rest of your setup
Personal preference
Features
Aesthetic
Ability
Beginners – if you are a novice to beginner, you will want medium-soft flex. They will be more forgiving, and more comfortable.
Intermediate – If you haven't yet decided on your riding style, or you are just coming out of the beginner stage, then you may still want a medium-soft flex. Depending on your mix of ability and style, medium stiffness may be good for you as well.
Expert - By this point, you will know what works well for you. Generally, expert riders will lean towards a stiffer boot, but it all depends on riding style. Whatever works best for you and your ride!
Riding Style
Freestyle - Anywhere between soft flex to medium-soft flex
All Mountain – Typically, all-mountain riders prefer medium flex. Potentially, you may prefer a stiffer flex if you prefer steeper slopes, the occasional backcountry ride, and making use of powder.
Free Ride – For free riding, stiffer flex will lead to greater response. Anything 8 and above is popular amongst free-riders.
Compatibility with the rest of your setup
It is a good idea to keep your flex consistent from your boots to your bindings, to your board. But it is not a mandatory rule, just something we would recommend.
Liner
Snowboard boots are lined with lightweight material, that can be heat moulded for a custom fit. The liner provides cushioning and insulation for comfort. Most liners are removable, meaning you can take them out and wash them. A lot of people like to let them dry overnight too after a sweaty day boarding!
Every snowboard boot comes with a liner, but the quality varies between each boot. They offer different thickness, volume, materials, and stiffness. They can be adjusted and personalised. Visit Snowfit if you're looking for a better fit.
Lacing
Traditional/Standard Lacing
Essentially lace up shoes, standard lacing is a familiar lacing system we have been used to for a long time. Usually, the inside is tightened with a pull string and the outer shell laced up. This means you get to determine how tight your shoes are, and thus are less likely to have any pressure points. These kinds of laces are also a lot easier to replace if they have any damage. The issues with these laces tend to be the hassle, as they are not easy to quickly loosen or tighten on the slope. They are also particularly hard to get super tight if you prefer grip strength.
Speed Lacing is one of the most diverse kinds of lacing systems. Each brand does them slightly different, and usually calls them something slightly different too. Usually, speed lacing involves pulling on a handle until the desired tightness, and then locking them in place with some lever or button. They are super quick, usually done in one motion. They are also light weight. The dual systems that some speed laces offer are awesome, allowing for you to tighten the upper and lower parts of the boots independently to one another. The downside to this lacing system is that they do require some strength to pull them fully tight, and they can slightly loosen off as the day goes on, meaning you may find yourself re-tightening them at the middle of the day.
There are two kinds of boa systems; single boa and double boa. Each brand uses boa systems slightly different. Boa systems have an inner traditional tightening system, but the outside of the boot is tightened using a knob that, as you twist, pulls a system of wires across the boot. Double boas have a knob the tightens the top of the boot, and one that tightens the lower part of the boot. It is really easy to tighten them, you don't even need to take your gloves off! They can also be the cure if you suffer from heel lift. They can, however, cause pressure points and they aren't as simple to fix. You can get these boots repaired, but you will have to come off the mountain for the day if you find that they break.
Visit us in store for a boot fitting with one of our experts. We will go through and pick the perfect boots for you. We can create custom footbeds for ultimate comfort if necessary.
It is always best to take advice from a boot fitter in what boots they choose for your snowboarding ability and foot shape. If we can't make the boots better for you, or if you don't get on with our recommendation, we will offer our Custom Guarantee.