Stephanie Heydon - 28 / Jun / 2022
Go Budget or Spend More? Why you should pay more for your paddle board
Is it worth spending a fortune on a Paddle Board? Or can you get away with a more budget friendly one? Snowfit's honest opinion.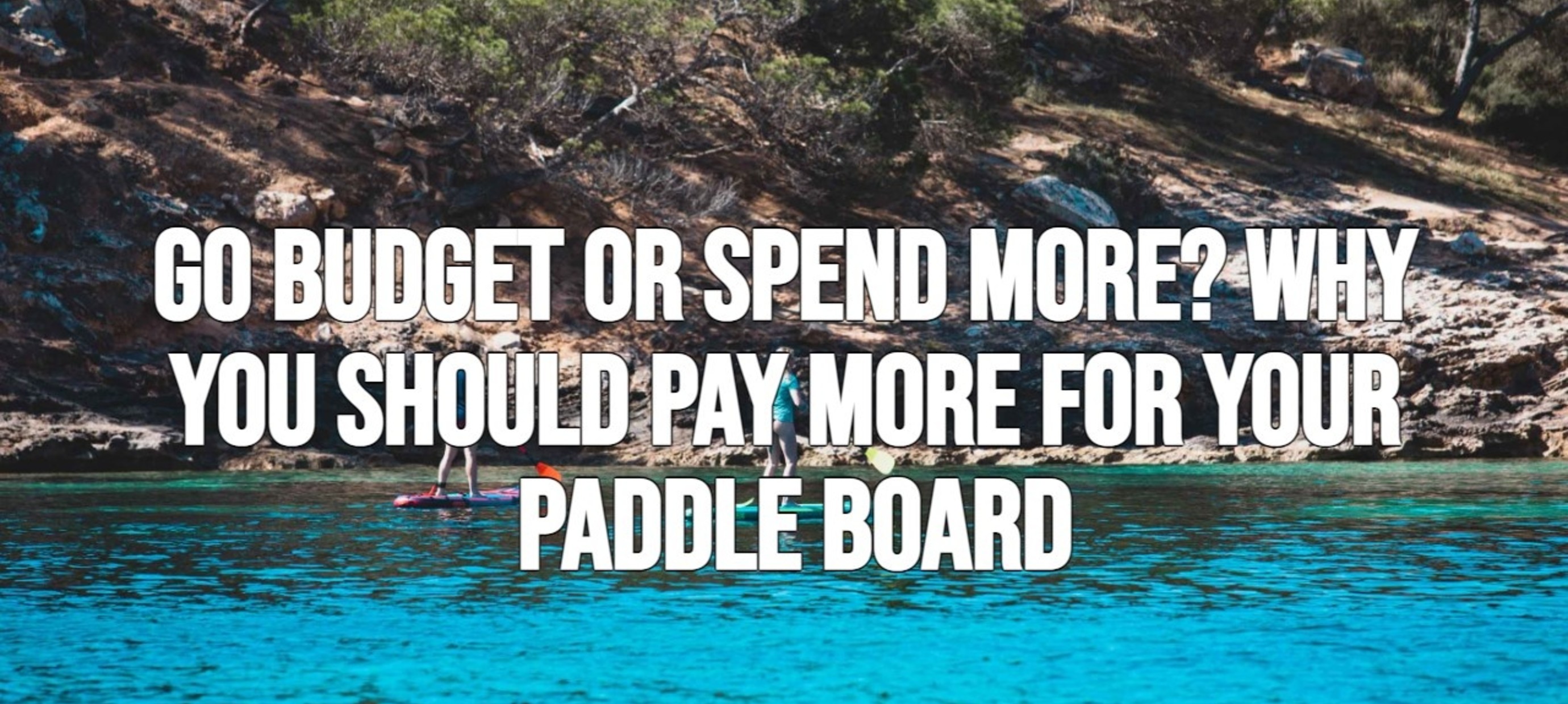 Paddle Boarding is only rising in popularity. With an increasing demand for equipment, you have probably seen numerous options appearing online, all claiming to be the best at what they do. As it is a new sport for many people, there are questions arising as to how much should you really spend on a SUP board. Realistically, can you afford to save money on a paddle board at the sacrifice of quality? Or is this something you should invest in and go for the best of the best? Well, we have the answers for you.
When it comes to SUP, you get what you pay for. A budget board can come across many issues. For one, the seam can be faulty and weaken in extreme heat. They can come with a loose valve, causing leaking air, and they can be more susceptible to tears and leaks. They can banana in the water, meaning they aren't stable enough to hold your weight. Some cheap boards can even pop on the beach!
The market for paddle boards has become populated with boards claiming to be 'entry level', when in fact, they are just constructed cheaper. There are exceptions to this, and some budget boards are out there at a reasonable price without the sacrifice of quality. But these are hard to find.
The temptation to buy a cheaper board is massive. Particularly if you are unsure as to whether you're going to stick to the sport or not. But skipping out on high quality materials, committed warranties, and the most innovative designers means the performance of your board will lack. In short, you will notice a difference and struggle more if the board is not designed well.
Buying a budget board can corner you into a bad experience. Say your board comes with a damaged seam, but you find out that there is not a realistic warranty window or you are left with no customer support, then you are stuck with equipment that won't perform. 
Using companies that are truly passionate about the sport has its rewards. We only stock brands known for their commitment to their customers, and thus we only stock boards that we would choose ourselves.
When it comes to buying a board, here are some of the things to look out for:
Is the brand trustworthy?
Do they have established warranties and customer support?
Is there sufficient documentation?
What reviews have other customers had?
What makes a Paddle Board expensive?
There are many factors that contribute to the cost of a paddle board, but here are the two main ones;
Supply and Demand
Paddle boarding has only increased in popularity over the past few years. The demand is only increasing, and much like every other sport, as the demand increases so do the prices. However, as more brands enter the game, the market saturates and the prices will remain steady.
Construction
Inflatable boards feature Dropstitch materials, using small threads to maintain a solid shape, rather than bulge or misshape. PVC is used to seal this in. It is down to the brand how many layers of construction they use. With these materials, the cost of labour, and the increasing use of technology, it is no wonder that the price can increase.
If you know Snowfit, you know that we never push ridiculous prices on products that don't perform. We really would advise anyone wanting to try SUP to not skimp out on their equipment. You don't have to buy the most expensive board out there, and there are affordable options in the market, but going for the cheapest board you find on Amazon isn't really the best idea. It really can be the difference between an amazing experience, and a naff one.