SUP-YAK AIR 11'6 BEACH PACK
Product description
The Tahe 11'6 Beach Sup-Yak is a stable and lightweight paddleboard. The best part of this is, its a set! The set includes, the board, a paddle, a pump and a bag to carry it all in.
The board is designed for 1 to 2 person use with plenty of extra space for kids, your gear or a pet. Tahe have made the Sup Yak Air to be a combination of comfort and convenience so you can enjoy fun out on the water all day. They have done this by using high pressure drop stitch construction paired a shape that is easy to control and move around. 
Features
LIGHTWEIGHT AND PORTABLEWeighs just 25 pounds/11.4kg, less than half of a similarly sized rigid kayak. Complete kit packs neatly in the included backpack and weighs just 34lbs/15kg.
STABLE & STURDY SHAPE – IDEAL FOR RIDERS UP TO 450 POUNDS/200KG36" at the center with a wide, stable stern that smoothly transitions to a narrower bow for improved glide
REMOVABLE 9" CENTER FINMade for superior tracking
DAISY CHAIN ATTACHMENT SYSTEM (DCAS)For ultimate versatility and customization
COMPLETELY CUSTOMIZABLECustomize location of kayak seat, footrest, deck bungee, and other accessories
REMOVE ALL ACCESSORIES AND ENJOY A PLUSH, CLUTTER-FREE DECK AREAFor paddle boarding, family fun, yoga and lounging
2X REINFORCEMENT RAIL STRINGERSProvide added stiffness and dampening in choppy conditions
BOW AND STERN BUNGEE RIGGING FOR SECURING GEARDaisy Chain Attachment System allows you to customize bungee location for your needs
BOW, CENTER AND STERN CARRY HANDLESFor easy transport by one or 2 people and for ease of re-boarding after swimming
DRY RIDE 6" THICK MILITARY GRADE DROP-STITCH CONSTRUCTIONDurable, rigid and buoyant
TWIN STRINGER STIFFENING TECHNOLOGY (TSST)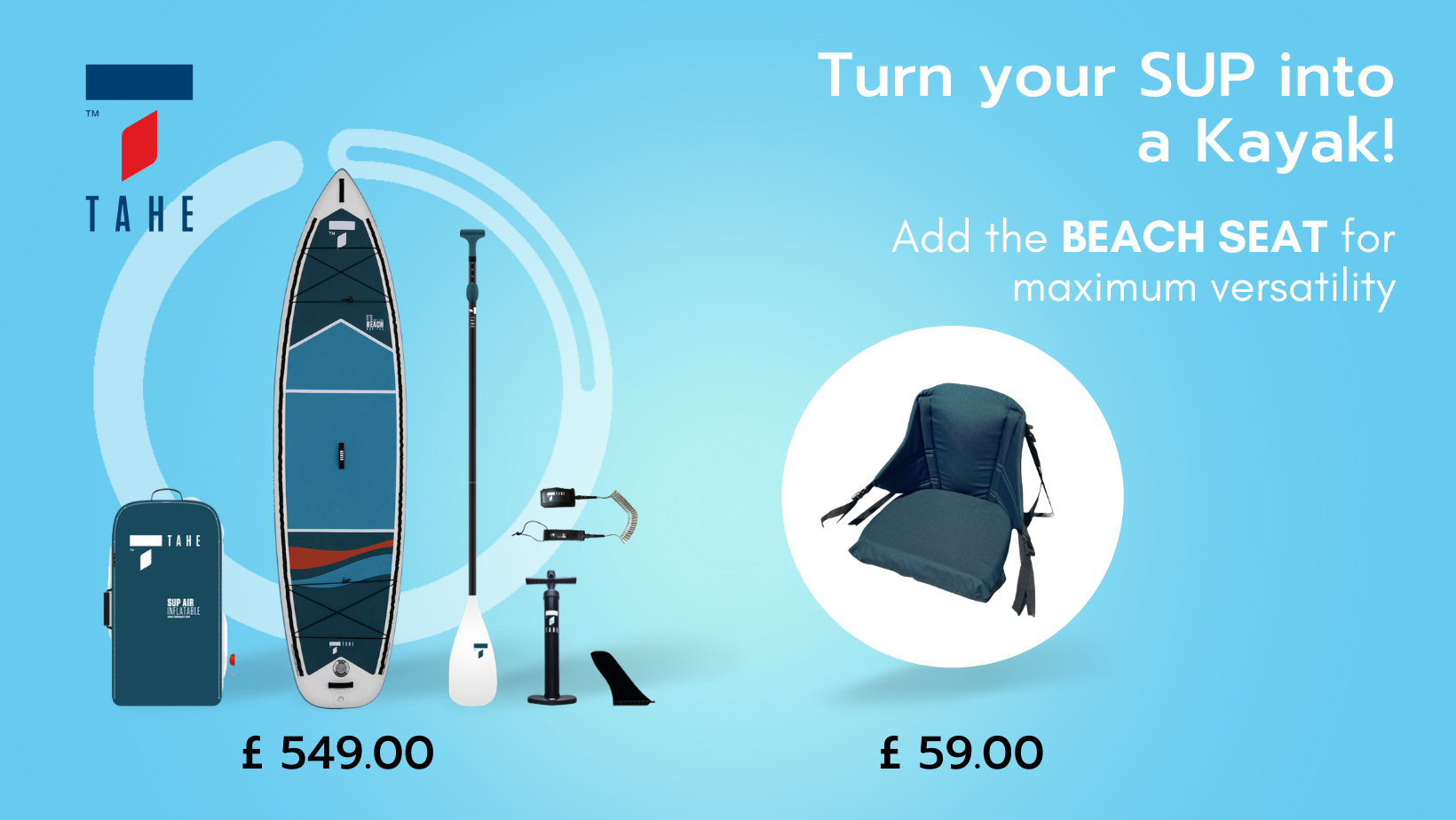 Whats your thoughts?
Why not leave a Review Below
Tahe

£499.00

Tahe

£629.00

Tahe

£29.00
Tahe

£549.00