Dan Wilson - 23 / Jan / 2020
Dan's Round up of La Clusaz Snowboard Test 2020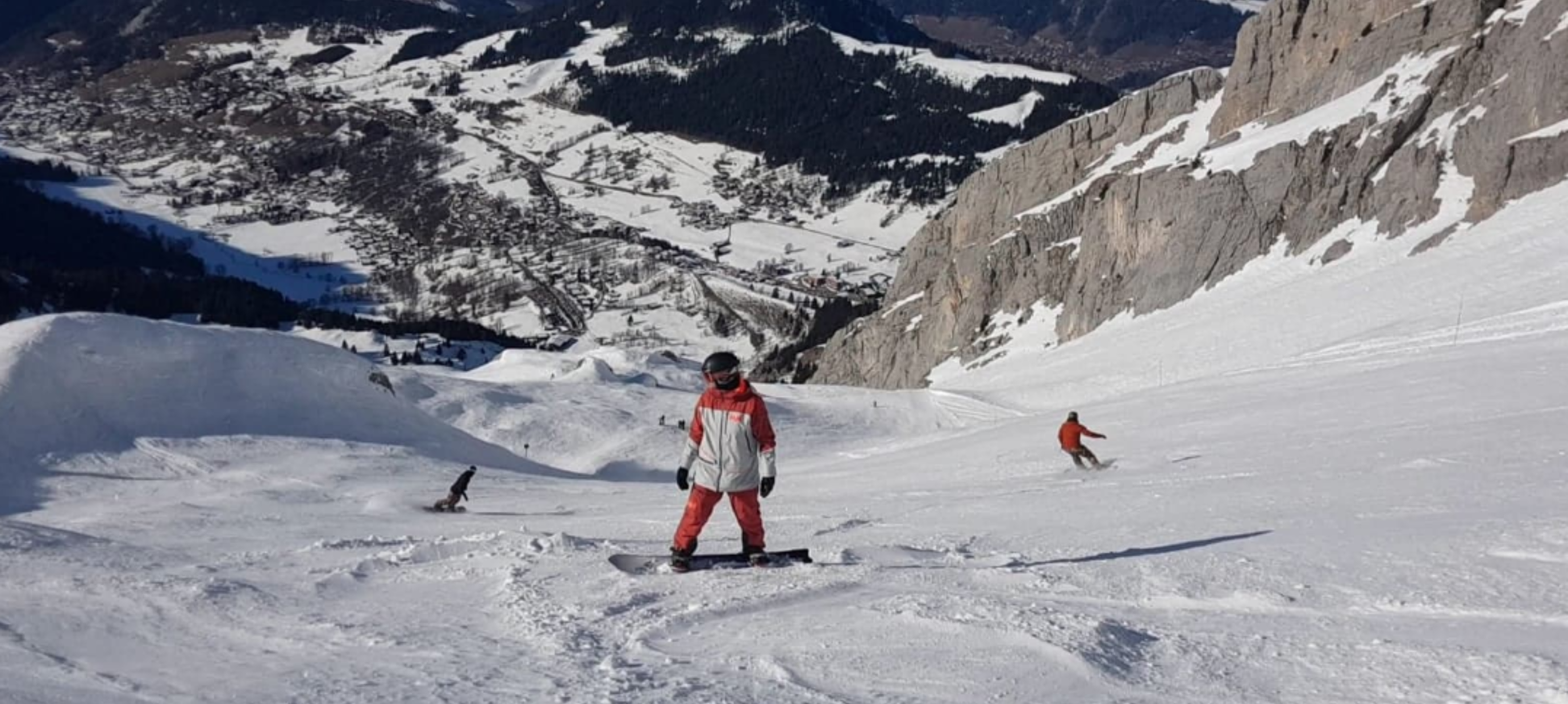 La Clusaz Report 
It's that time of year again where the Revolutionz team head out to the mountains, namely La Clusaz, France, for the annual Rock on Snow industry event to have a first look and of course ride of all next winters gear for the 2020/21 season. Over these three days, we get the opportunity to push the kit to its limits and see what holds up. The conditions were blue skies and cold nights offering lightning-fast groomers and some solid hardpack. So how did the latest gear hold when ripping up the mountain? 
May I introduce our top 5: 
GNU Riders Choice: Welcome to the world of Magne-Traction, this was by far the technology of the trip for the conditions presented to us. The 'serrated steak knife' edges offered unreal hold and control through the hardest of iced runs allowing for a really smooth carve and the feeling of wanting to attack anything in your path. Not only that you also have the asymmetrical shape adding to the precision and control. With the heel edge slightly shorter than the toe edge you could really let rip. As a mid flexing board, this really was the riders choice with the ability to ride anywhere and anything. As a little cherry on top, all GNU's are made using zero hazardous waste which is a win in our eyes. 
Rome Gang Plank: A freestyle machine. Sometimes rockered boards without camber in the middle can be washy and lack pop, but the Gangplank has neither of these issues. For buttering and jibbing, it had the perfect amount of flex in the nose and tail to control presses without it wanting to spring from under you, and enough snap between the bindings to generate huge amounts of pop. We wouldn't hesitate to put a beginner on the Gang Plank as it was smooth, easy to control and gave you a great sense of confidence. In the right hands, this board can boss the entire mountain and do everything asked of it.
Bataleon Evil Twin: It's not for nothing that this board has been in Bataleon's line since day one. The Evil Twin is perfect for riders of all levels, especially those who want to hit the park but are looking for a board that will hold up all over the mountain. 
We've ridden a few versions of this board, and it's easy to see why so many riders love it. It's full of life, and the use of 3BT and SideKick really offer that catch-free edge, allowing for a super-smooth ride. The Evil Twin is sure to deliver everything you need. 
Jones Mountain Twin: Consistently in our top five best selling snowboards it's a directional twin model that can be used anywhere over the whole mountain. Camber underfoot with a 'Traction-tech' edges (think Magna-traction, but less catchy) let you carve hard without the fear of washing out. Rocker in the nose and tail lets you press and butter about the piste/park while simultaneously giving plenty of float in the powder. 
A solid option for the rider wanting to have a one board quiver killer. 

Ride Machette: Getting on a board from my past life as a seasonaire I was unsure how I'd feel. Would I still get the buzz and excitement as my 20-year-old self? The answer was a  resounding yes. As soon as I strapped in I instantly felt at home and wanted to turn the entire mountain into my play park I was back at Mt.Buller hitting up Frank the Tank and enjoying hot laps with my friends. A board very much designed to offer confidence and perform in all areas, you can see why Ride keep it in the line and I'm glad they did.